---
Thu, 22nd Oct 09
WATERSKI WORLD CUP STAR FROM BELARUS TO START YOUNG MALAYSIANS TRICKING IN SHORTBOARD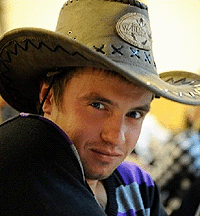 The second edition of the Putrajaya Waterski World Cup scheduled to be held on the 6th to the 8th of November in Putrajaya's Presint 6 Water Sports Complex had brought a sudden windfall to young Malaysian skiers in the form of shortboard champion Herman Beliakou.
Current Dubna World Cup Shortboard champion and last year's Putrajaya Waterski World Cup second runner up, Herman Beliakou of Belarus will be in Putrajaya a whole week earlier than all other World Cup entries to help coach Malaysia's young trainees from the under 15 and under 10 squads.
The 20 year old three-eventer recently won the European title in Denmark and was second in the IWSF World Championship held in Canada last August.
In the Dubna Waterski World Cup this year Beliakou scored a massive 10,690 points to grab the shortboard gold medal and is quietly confident of improving on his Putrajaya third last year in this year's Putrajaya Waterski World Cup in just over 2 weeks time.
Hailed as the future world champion Beliakou will spend time to introduce shortboard riding to some of the youngest waterski competitors from the Putrajaya Waterski & Wakeboard school managed by Waterski & Wakeboard World Cup Malaysia with the support of Perbadanan Putrajaya and the Malaysian Water Ski Federation.
The most excited of all are the amongst the youngest of the 24-strong training squad comprising Aaliyah Yoong, 5; Anakin Ali, 7 and Hadi Irfan Rahaizah, 8. These three had been competing in slalom and wakeboard with much success already in the three rounds of the 2009 Malaysian Waterski & Wakeboard Championship run in May, June and a week ago in Putrajaya.
Also joining the Herman Beliakou clinics will be Hanis Azemi 10, who won two gold medals in Round 3 last week, Shamal Norman 13, Nadiah Nasir 13, Syakirah Nasir 13, Alisandra Ali 6, Sophea Ayna Yein 8, Fatin Natasya Arffin 14, Syakir Mat Shah 13.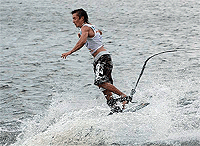 The "Herman Beliakou Clinics" will be held in the week before the World Cup action starts on the Friday of 6th November 2009.
Entry to the World Cup for spectators is free. In addition to the exciting shortboard, slalom and jump competitions from the world's top 60 skiers Perbadanan Putrajaya had laid out all day long side events for the young and old who are expected to fill up the grandstands and the water edge.
Some of the side events organised are entertainment by local singing stars, horse riding, mobile wall climbing activities, extreme games, paintball target shooting, magic shows, stilt walkers and clowns as well as traditional handicraft displays and radio controlled model boats and planes displays.
For more information please call Perbadanan Putrajaya at 03-8887 7063 or Malaysian Water Ski Federation at 03-8926 1054 or visit www.waterski.com.my to get the directions to the World Cup venue in Putrajaya.
HERMAN BELIAKOU – RECENT TITLES
| | | | |
| --- | --- | --- | --- |
| Year | Tournament | Event | Placing |
| 2004 | 2004 World Junior Championships | Men Shortboard | 3 |
| 2006 | 2006 World Junior Championship | Men Shortboard | 1 |
| 2007 | 2007 EAME Championships | Men Shortboard | 3 |
| 2008 | World Cup Dubna 2008 | Men Shortboard | 3 |
| 2008 | World University Championships | Men Shortboard | 1 |
| 2008 | World Cup Putrajaya 2008 | Men Shortboard | 3 |
| 2009 | 2009 European (EAME) Championships | Men Overall (Shortboard, Jump & Slalom) | 3 |
| 2009 | World Cup Dubna 2009 | Men Shortboard | 1 |
| 2009 | 2009 World Championships | Men Shortboard | 2 |
| 2009 | 2009 EAME Championships | Men Shortboard | 1 |
---