---
The rates of waterskiing, wakeboarding, hire of waterski boat for tubing, kneeboarding and other activities are as follow:
Water Ski / Wakeboard / Tubing Rates

RM

300

per hour

for weekdays (except public holidays)

RM360 per hour

for weekends and public holidays
The boat hour rates can be divided for a set of 15 or 30 minutes ride/ski
---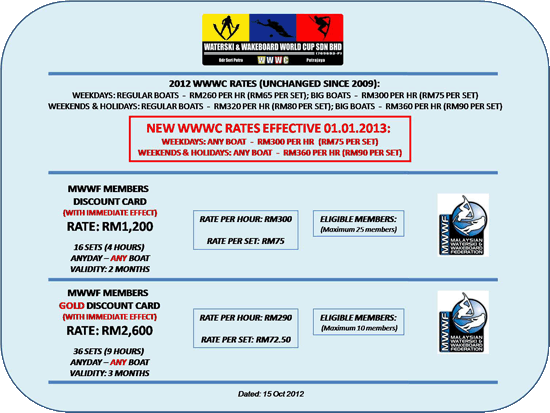 ---
House Boards/Skis & Life Jackets are included with these prices except for
competition slalom, trick & jump skis.
Ski rental & Coaching available. Please enquire.
---
Contact Details for Bookings and Further Info:
---
---
---
For discounts on bookings of more than 8 boat hours on any one day please contact +6012 272 1948 or email hanifah@waterski.com.my
---
LEARN TO WATERSKI & ENJOY IT IN 4 LESSONS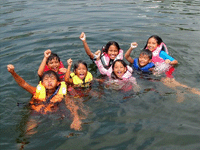 We have currently a "Learn to Waterski in 4 lessons" course which are priced at a special price @ RM360 per course per participant applicable for weekdays non-public holidays only. You can either complete the 4 lesson course in 2 days or in 4 days.

The course curriculum are as follows:
Lesson 1 : (i) Land training - 10 minutes
(ii) Water comfort training with life jacket and skis - 15 minutes
(iii) Skiing or riding with boat using boom - 10 minutes.
Lesson 2 : Continue training on boom or graduate to skiing or riding behind boat on rope - 15 minutes.
Lesson 3 : Skiing or riding behind boat on double skis/wakeboard - 15 minutes.
Lesson 4 : Skiing or riding behind boat and learning cutting boat wakes from left and from right - 15 minutes.
(You can take 2 lessons per visit or 1 lesson per visit)
Malaysian students and children who complete the "Waterski In 4 Lessons" Course with us will also enjoy the option to take up special rates of RM75 for weekends and/or RM60 per set for weekdays if they continue training with us through the purchase of prepaid 10 ski-sets discount cards.
If you have what it takes with age on your side and if you have the potential to be a tournament waterskier or wakeboarder, the Malaysian Waterski & Wakeboard Federation will talent spot you for training under the national trainees scheme with subsidies.
Normal waterskiing or wakeboard rates are RM90 per set for weekends and RM75 per set for weekdays. (Each set of skiing or riding is between 10 minutes to maximum 15 minutes depending on your fitness)
Contact: HP: +60 (0)12 272 1948, T: +60 (0)3 8926 1054, F: +60 (0)3 8926 1504, or email hanifah@waterski.com.my for more info and bookings.