: : WATERSKI & WAKEBOARD WORLD CUP SDN. BHD. : :
2013 MALAYSIAN NATIONAL CHAMPIONSHIPS WATERSKI & WAKEBOARD
25-26 MAY


---

Waterski & Wakeboard World Cup Sdn. Bhd. (WWWC) is a company founded in collaboration with and to represent the International Waterski & Wakeboard Federation (IWWF) formerly knows as International Water Ski Federation (IWSF) in marketing, promoting and organising in Malaysia, the waterski and wakeboard international events and world championships that are owned and managed by the IWWF.

The first ever IWWF sanctioned and promoted Waterski World Cup will be held in the Putrajaya Water Sports Centre at Precint 6 (near the Putrajaya International Convention Centre) with the agreement of Perbadanan Putrajaya (Putrajaya Corporation) as the venue owner.

The Putrajaya Waterski World Cup will be organised by WWWC with the Malaysian Waterski & Wakeboard Federation (MWWF) formerly known as Malaysian Waterski Federation (MWSF) as the joint organiser. The MWWF is headed by Datuk T.Y.Lee as the President.

MWWF's & WWWC's management and officers have very substantial experience in the promotion and organisation of international & national waterski events in Malaysia and the region having organised in the past, the IWSF Asian Waterski Championship, the IWSF Asian Australasian Waterski Championship, the numerous National Waterski Championship events in the 90s at Kuala Lumpur's Tasik Desa as well as at Selangor's Tasik Biru in Kundang near Sungai Buluh.

The feather in the caps of the MWWF & WWWC's management and officers (who are all Malaysians or Malaysian residents) is the prized experience of having also organised the IWSF Waterski World Championship in 1993 (under the Singapore Water Ski Federation) which saw 33 nations participating in the week-long event under difficult conditions at Singapore's Kallang River.

These personnel of MWWF & WWWC include amongst many others:
Datuk T.Y. Lee

MWWF President

Ms. Phillipa Yoong

(Malaysia's triple national records holder, National Coach, 1997 Jakarta & 2011 Palembang SEA Games Gold Medalist, 1994 Asian Australasian Games Silver Medalist, 2011 & 2012 Asian Championship Gold Medalist and MWWF Vice President)

Ms. Norzeela Sulaiman

(WWWC Director, Coach & MWWF Hon. Secretary)

Mr. Roland Tan

(MWWF Hon. Treasurer)

Mr. Hanifah Yoong

(MWWF Exec. Secretary & IWWF Event Director, Malaysia)

Mr. Alex Yoong

(National record holder, SEA Games medalist & MWWF Advisor)

Mr. Danny Choo

(WWWC Design & IT Manager, International Boat Pilot & Coach)

Mr. Al Fisal Mohamed Nor

(WWWC International Boat Pilot & Coach)

Mr. Emirul Shahimy Ab Wahab

(WWWC Facilities Manager, International Boat Pilot & Coach)

Mr. Khairul Kassim

(WWWC Boat Pilot & Junior Coach)
The MWWF & WWWC with the strong support of the IWWF will develop the Malaysian waterski and wakeboard sports as well as further enhance the recreation aspects of these sports to make Putrajaya a centre for these activities in Malaysia.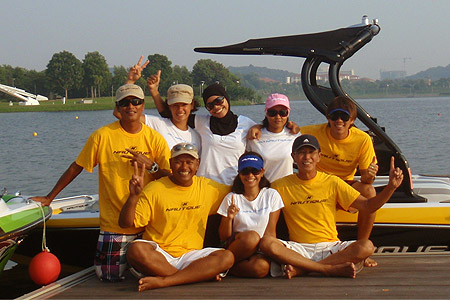 WWWC officials @ Putrajaya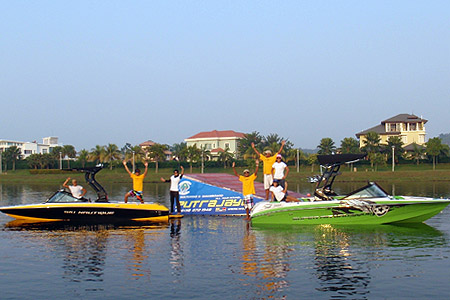 WWWC officials with the new 2011 Ski Nautique 200 & Super Air Nautique 210




Join our facebook group here:



Copyright © Waterski & Wakeboard World Cup Sdn Bhd. All Rights Reserved.