RULES, EVENT DOCS & RESOURCES
2010 Championship - Rd. 1, 2, 3 & 4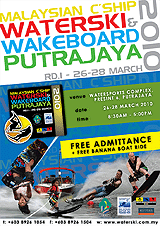 (enlarge 2010 MWWC Rd1 poster)
______________________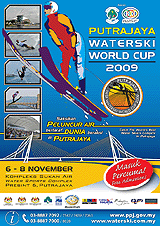 (enlarge World Cup 2009 poster)
______________________


---
Tue, 25th May 09
ROUND 2 OF THE MALAYSIAN WATERSKI & WAKEBOARD CHAMPIONSHIP WILL BE HELD FROM 12-14 JUNE 2009 IN PUTRAJAYA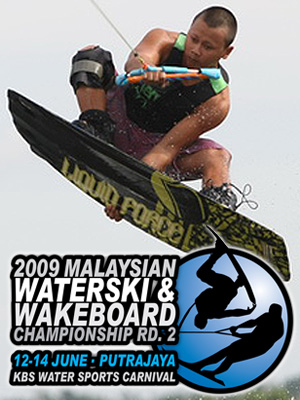 The course will be on the other side at Maritime Centre as this round will be held in conjunction with the Ministry of Youth & Sports' WATER SPORTS CARNIVAL 2009.

This event (round 2) is expected to be smaller than round 1 as there are limited time available and limited resources available to hold 4 events over the same period. The other events to be concurrently held are DRAGON BOATS, CANOEING AND KAYAKING. Therefore the schedule of both Saturday and Sunday might have later adjustments to them in order we can run all these events together.

However it is of paramount importance for all skiers and riders around the region to partake in competition environment to prepare for bigger tournaments (regional & international level) to come.

Open riders will be invited to come as demo riders like what Bomb did for us in round 1.

Please put in your entries as soon as convenient to you all….so that we can plan ahead. For those who want their faces in the souvenir posters the entry dateline is 10 days before the event on the 2nd June 2009.

We will understand it if regional competitors cannot take part in round 2 as round 1 has just gone but all of you are still most welcomed to participate in our event. Round 3 in October WILL be as big as round 1.

---
Download: Rules & Information HERE Entry Forms HERE
---



Join our facebook group here:



Copyright © Waterski & Wakeboard World Cup Sdn Bhd. All Rights Reserved.