---
Tue, 8th Oct 09
2009 MALAYSIAN WATERSKI & WAKEBOARD CHAMPIONSHIP – ROUND 3 PUTRAJAYA – 17/18 OCTOBER 2009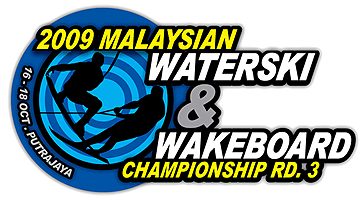 The Malaysian Water Ski Federation (MWSF) today announces that round 3 of the 2009 Malaysian Waterski & Wakeboard Championship has been confirmed as calendared for the 17-18 October 2009 with a venue changed to Putrajaya's Water Sports Complex at Presint 6.
The 4-round championship is the first to be organised this year by the MWSF. In the past, MWSF had organised stand alone events in the 90s but the 2008 Putrajaya Waterski World Cup has stimulated a marked increase in interest and following of waterskiing and wakeboarding in the country which prompted MWSF to stage a 4-round championship.
Entry forms as well as the Rules are now available from the secretariat and entries open forthwith. Those interested can obtain the entry forms from www.waterski.com.my or receive by email if they contact mwsf@waterski.com.my .
The event categories are Mini Slalom for boys and girls, Slalom for boys and girls, Slalom for men and women as well as Wakeboard for Novice, Intermediate and Open riders. Prize monies will be awarded to the winners for rd 3. Please refer to the rules from the official website.
The MWSF has opened round 3 to regional water skiers and wakeboard riders from the region by invitation to compete with the Malaysians. Some 30 overseas entries are expected to come from Indonesia, Singapore, Hong Kong, Thailand and Chinese Taipei.
Leading the Malaysian Slalom championships after 2 rounds are: Boys 10 and under Slalom - Hadi Irfan Rahaizah and Syahir Nasir both with 9 points; Girls 10 and under Slalom – Aaliyah Yoong 10 points from Hanis Azemi 8 points; Boys 18 and under Slalom – Haziq Zohari 10 pts, Shamal Norman 7 points; Girls 18 and under Slalom – Nadiah Nasir 10 points from her younger sister Syakirah Nasir at 8 pts; Men Slalom – Danny Choo 9 pts joint leader with Majid Dorani also at 9 pts; Women Slalom – Norzeela Sulaiman 10 points, Nur Izzaty Zainal 8 points;
In the Malaysian Wakeboard championships the leaders after 2 rounds are: Women Novice – Khoo Cai Mei 10 pts from Hanis Azemi 7 pts; Men Novice – Shamal Norman 10 pts with Shafiq Iqmal 7 pts.
Admission is free for the public.
Attachements:
Entry Form | Supplementary Rules & Info
Current Championship Standings after 2 rounds

---