: : WWWC : :
______________________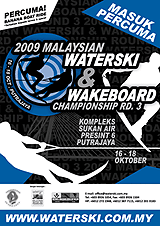 Click here for Rd3 Rules & Entry Form
______________________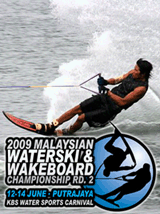 Click here for Rd2 Rules & Entry Form
______________________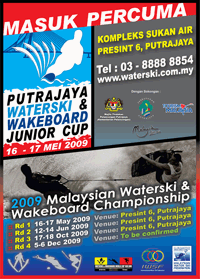 Click here for Rd1 Rules & Entry Form
______________________
______________________
Coming Soon in November...
Waterski World Cup 2009
Water Sports Complex,
Precinct 6, Putrajaya
______________________
______________________


---
Tue, 13th Oct 09
ROUND 3 WATERSKI & WAKEBOARD TOURNAMENT IN PUTRAJAYA THIS WEEKEND - *Free rides on banana boats for spectators*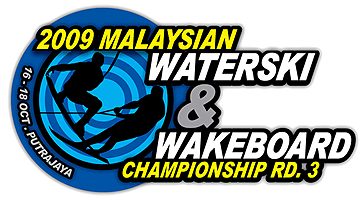 The third round of the Malaysian Water Ski Federation's Malaysian Waterski & Wakeboard Championship will take place in Putrajaya's state of the art Water Sports Complex at Presint 6 this weekend on the 17-18 Oct 2009. The preliminary events will run on Saturday, 17th Oct from 9am to 4.00pm while the finals will be held on Sunday 18th Oct also from 9am to 4pm.
In store are loads of excitement with spills and thrills by novice and open waterski & wakeboard competitors from Malaysia and around the region. Indonesia is sending a 10 strong contingent with junior and open skiers while Singapore will be sending their teenage wakeboard star and Singapore's sports-girl award winner, Sasha Christian. Christian at only 16 is the toast of Singapore Wakeboard community after she became the Asian champion in the World Wakeboard Championship held in Seoul last month. Also participating are athletes from Great Britain and Japan who have one competitor each in the Open Slalom event represented by Jody Symons and Yusuke Ozawa. Singapore's Kalya Kee, winner of the mini slalom event and wakeboard event in round 1 have again confirmed her participation.
Representing Malaysia are an array of rising stars from as young as 5 year old Aaliyah who won the under 10 slalom event in round 1 and second in the under 10 combined boys and girls event in round 2. In addition, Malaysia's Shamal Norman, 13, and Nadiah Nasir, also 13, are both looking forward to again display good form in round 3 after wimming in round 1 and round 2 in their respective wakeboard and slalom events. Eight year old Hadi Irfan Rahaizah won the mini slalom event for boys under 10 in round 2 is again representing Putrajaya to defend his title. Other Malaysians taking part and are expected to shine are Khoo Cai Mei, 23; Syahir Nasir, 10; Anakin Ali, 7; Hanis Azemi, 10; Danny Choo, 27 and former motorbike racing star Rody Buang, 27.
A total of 40 competitors will take to the water in Mini Slalom, Novice Slalom Open Slalom as well as in the Novice, Intermediate and Open wakeboard events.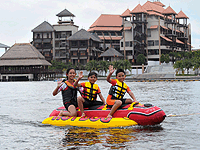 Highlights of the weekend is the good news that all spectators are given the chance to ride the MWSF sponsored banana boat rides for children from 6 to 10 years old free of charge. The only conditions are that they must know how to swim and have their parent sign the indemnity form before participating in these free rides. Life jackets and safety personnel will be available and on standby during these free ride sessions. Three half hour sessions on each day of the event will be made available in this weekend's programme for these rides. Rides will be given on first registered first served basis. For more information please contact MWSF at 012-272 1948 or 012 387 7115.
The event is sponsored by Perbadanan Putrajaya and Waterski & Wakeboard World Cup which are also organising the 2009 IWSF Putrajaya Waterski World Cup from the 5th to the 8th November where the world's top 60 men and women waterskiers will challenge for world cup honours with spectacular displays of tremendous skills in the slalom, shortboard and jump events. Pullman Putrajaya Lakeside is the event's official hotel.
END
---