: : WWWC : :
______________________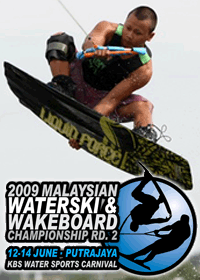 Click here for Rd2 Rules & Entry Form
______________________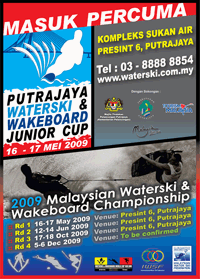 Click here for Rd1 Rules & Entry Form
______________________
______________________
Coming Soon in November...
Waterski World Cup 2009
Water Sports Complex,
Precinct 6, Putrajaya
______________________
______________________
---
Mon
, 10th Nov 08:
PUTRAJAYA WINS FOR USA FRANCE AND GREECE
Putrajaya Malaysia is a totally new city located 15 minutes from Kuala Lumpur International Airport (KLI). Designed from scratch as the administrative capital of Malaysia and within a high technology zone, the planners wisely also created a perfect man-made Water Sports Centre. For the 25th Waterski and Wakeboard World Cup Stop in the series, the exceptional on-site facilities guaranteed that this would be one of the greatest of all World Cup Stops to date. A packed Grandstand, four storey air-conditioned all-glass control tower with high speed Broadband, multiple boat jetties, tented village, visitors golf carts, an on-site 50m swimming pool and gymnasium – plus high quality Slalom, Shortboard and Jump Courses, all combined to create a once-in-a-lifetime experience for the World Cup competitors from 14 countries. The athletes and officials were accommodated in the exotic lakeside Pullman Putrajaya Hotel overlooking the Maybank Jump Ramp.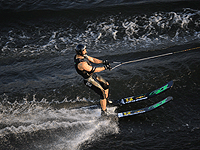 Freddy Krueger takes the title
This 25th World Cup Stop in Putrajaya was the last in the 2008 series for the Waterski Jump athletes. The World Cup Slalom and Shortboard athletes will travel on to the Diplomatic Club in Doha Qatar for their Finals next weekend.
In 33C temperatures, the battle for places in the World Cup finals was one of the toughest this season. With just four places available for the Ladies and six for the Men, disappointments were inevitable – as were some great surprises. MasterCraft again supplied all the World Cup competition boats and support services.
In the Slalom Preliminary Rounds, Malaysia's Phillipa Yoong was first off and the audience gave her a rousing welcome. Although she did not make it to the Finals, she has a bright future. Danyelle Bennett USA, Kyle Eade NZL and Billy Susi USA, also just missed a Finals place by a score of one buoy or less. In Shortboard, Alex Lauretano USA needed just 100 extra points to qualify. Canada's Ryan Dodd also fell short by 620 points. In Jump, Anais Amade FRA and Damien Sharman GBR were just a shade short of qualifying.
The Sunday Putrajaya World Cup Finals programme really had something for all. Hot Air Balloon rides, Water Demonstrations, Magicians, Cabaret Singers, Stilt Walkers, Remote Control Boats and Planes and a large tented village, attracted almost 8,000 spectators to the event. All the major TV Networks and Newspapers were represented. Prime time TV News coverage was excellent.
Following Malaysia's National Anthem at Noon, the World Cup Slalom Final began with the Ladies. The big surprise here was the 21 year old Claire Lise Welter FRA who scored 1 buoy on the short 11.25m line. This put her ahead of the very experienced Sarah Green GBR by a half buoy. The World Overall Record Holder, Clementine Lucine FRA, was yet again in unbeatable form. Her score of 1.5 buoys on the same 11.25m line was enough to take the title away from Welter, making it a French 1 and 2 in Putrajaya, with Green in third place. In the Mens event, the line-up was mouth watering ! All eyes were on Chris Parrish USA, the World Record holder, Jodi Fisher GBR, the 2007 World Cup season winner and also the series leader this year, and Thomas Degasperi ITA, the current World Champion. Degasperi was not on form and the final battle was between Chris Parrish and the two British skiers, Jodi Fisher and Glen Campbell. Campbell has just recovered from injury. His 3 buoys on the 11.25m line gave him third place plus a welcome return to the World Cup podium. Jodi Fisher was outscored in the Preliminary Round by Chris Parrish. This was repeated in the Finals giving Parrish the Putrajaya title with a score of 2 buoys on the 10.75m line – just a half buoy ahead of Fisher.
Ladies Shortboard provided some real surprises. Clementine Lucine FRA set a pending World Record of 8840 points two weeks ago but scored just 5670 here – enough for fourth place. In 2006, Mandy Nightingale set a World Record of 8740 points but on this occasion had to settle for third place with 6610 points. The eventual battle was between 24 year old Maria Camila Linares COL and the youngest of all, 18 year old Marion Aynaud FRA. To an ovation from the packed lakeside Grandstand, it was Aynaud's time for victory on the World Cup stage with a score of 7310 points. This past World Junior Champion is now a World Cup star ! The Mens event was loaded with drama. World Record holder Nicolas LeForestier FRA caused a sensation by actually making it to the Finals. A very serious arm injury last July should have ruled him out for the rest of 2008. In the Putrajaya Preliminaries, he then pulled a groin muscle. Somehow surviving both injuries, he scored 10,570 to take the silver medal position in this 25th World Cup Stop – and a great ovation from the enthusiastic Malaysian audience. The 19 year old 2006 World Junior Champion and 2008 World University Champion, Herman Beliakou BLR, almost caught him with a solid score of 9390 points, enough for third place. However, it was Jimmy Siemers USA who dominated today. This 2003 and 2005 World Trick Champion, returned to form in Putrajaya and even Nicolas LeForestier could not match his 10,680 performance. This was one of the most outstanding Shortboard / Tricks events of the World Cup series to date.
At 16.00hrs, it was time for the Ladies Jump Finals. A stiff hot tail breeze created some challenging water conditions in the exposed entry part of the course. This favoured the more experienced athletes although all the scores were very close. While June Fladborg DEN was a hot favorite, she broke a tailor-made ski one week ago and the replacement unsettled her performance. Her 44.1m distance earned third place. It was the two Greeks who dominated in Putrajaya. World Jump Champion Angeliki Andriopoulou battled a head cold and some bruising but was unbeatable yet again with a distance of 45.6m. Marie Vympranietsova just gets better and better – having quit smoking – and earned a very well deserved second place with a distance of 44.9m. As the sky began to darken and the 33C temperatures caused the Men to really feel the heat in those bulky Jump Suits and Helmets, all expected a classic duel between Jason Seels GBR, Ryan Dodd CAN, Freddy Krueger USA and Jaret Llewellyn CAN. None of Malaysia's spectators was disappointed by what followed. The hot tail breeze had increased. Experience was essential to cope. In the end, It was a Dodd, Llewellyn, Krueger duel with less than 2m difference in the scores. Krueger set the pace with a best of 60.9m. Dodd followed with 60.0m – close but not enough. That left Jaret Llewellyn with eleven World Records already in his war chest, to take on the challenge. His scores built from jump to jump but 59.0m was all he could extract from the Maybank Jump Ramp in the heat on this occasion. Freddy Krueger set a new pending World Jump Record two weeks ago and can now add the Putrajaya World Cup Jump title to his list. ' A wonderful end to a wonderful World Cup Stop.
For the first time, the new World Cup Webcast programme was launched to the public. Using a multi camera arrangement and the most advanced software available, the presentation included multiple screens, instant slow motion replays, timetables, scoreboards, prerecorded interviews and advertisements. This will be expanded in the 2009 World Cup series. The Putrajaya World Cup Stop Webcast will be archived in the coming days for viewing by the worldwide audience. Details will be available on http://www.waterskiandwakeboardworldcup.com
The President of Perbadanan Putrajaya, Tan Sri Samsudin Bin Osman, thanked the International Water Ski Federation for selecting Putrajaya as a venue for this World Cup Stop and confirmed that Putrajaya looks forward to hosting more international events in the future.
END