: : WWWC : :
______________________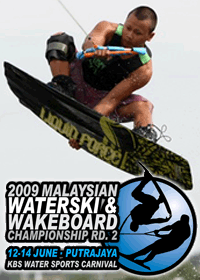 Click here for Rd2 Rules & Entry Form
______________________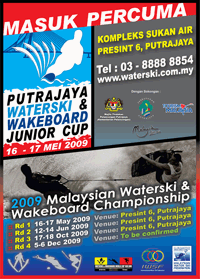 Click here for Rd1 Rules & Entry Form
______________________
______________________
Coming Soon in November...
Waterski World Cup 2009
Water Sports Complex,
Precinct 6, Putrajaya
______________________


---
Wed, 15th July 09
LATEST UPDATES - JULY 2009

1.0 ROUND 3 – MALAYSIAN WATERSKI & WAKEBOARD CHAMPIONSHIP (17-18 Oct 2009 - CONFIRMED)

There is no change in dates and is confirmed for the 17th – 18th October 2009 at Putrajaya. This event is an Open Invitational event where skiers and riders from the Asian region are invited. Entry forms and details will be out soon...please keep in touch by visiting www.waterski.com.my .


2.0 ROUND 4 – MALAYSIAN WATERSKI & WAKEBOARD CHAMPIONSHIP (5-7 Nov 2009 - TO BE CONFIRMED)

This is now tentatively to be slotted in the 2009 IWSF PUTRAJAYA WORLD CUP weekend of 5th to 8th November 2009 and will be a fully Malaysian national event due to time constraints in fitting in with the schedule together with the world's top 60 men and women skiers in Jump, Shortboard and slalom.


3.0 RODY BUANG OFF TO 2009 WORLD GAMES IN KAOSHIUNG, CHINESE TAIPEI

We are proud to announce that our MWSF boat driver, Rody Sofian Buang will be heading to Kaoshiung, Taipei on the 17th July to assist IWSF in the 2009 World Games organisation and specifically in course management and tow boats maintenance. He will be away till the 28th July so Danny Choo, Emirul, Haziq, Hanifah and Pipa will be taking turns doing driving duties at the Putrajaya waterski & wakeboard school. We wish Rody "Bon Voyage" and that he'll have fun at the World Games.


4.0 SLALOM COURSE

The slalom course undergone it's full maintenance early this week where turn buoys, shackles and bulldog clips were checked and replaced. The slalom turn buoys were all re-measured for accuracy. We are very happy to announce that the course is as accurate as was used in the 2008 Putrajaya World Cup.


5.0 BRAND NEW 2009 MASTERCRAFT X-7 ARRIVING IN PUTRAJAYA IN SEPTEMBER 2009

This brand new state-of-the-art Mastercraft combo wakeboard-slalom tow boat will be arriving in September. We are sure all of you will be excited to try it out at Putrajaya.


6.0 VISITING WAKEBOARD & WATERSKI COACH FROM IRELAND

Daryl Higgins, 35, from an established Irish waterski & wakeboard club will be with us from October 2009 to February 2010 training with us. He shall be assisting our young riders and skiers with daily coaching whenever required.

---







Join our facebook group here:



Copyright © Waterski & Wakeboard World Cup Sdn Bhd. All Rights Reserved.