---
Fri, 26th Mar 10
WORLD WAKEBOARD STAR PADIWAT "BOMB" JAEMJAN TO THRILL THE CROWDS IN PUTRAJAYA THIS WEEKEND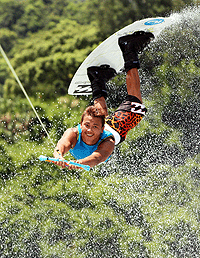 2009 IWWF Asian Wakeboard Champion and World's top 10 Wakeboarding star, Padiwat "Bomb" Jaemjan will be returning to Putrajaya this Friday to thrill the waterski & wakeboard crowd in round 1 of the Malaysian Waterski & Wakeboard Championship.
Bomb will be performing 2 demo runs per day on Saturday and Sunday this weekend at the Putrajaya Water Sports Complex to support the show and the contests for supremacy being fought out by 53 competitors from 9 countries.
The 21 year from Thailand who was also the bronze medallist in the 2009 World Games is a wakeboard pro instructor at the Total Entertainment wakeboard centre on the outskirt of Bangkok.
Bomb made two appearances to Putrajaya last year at the 2009 Waterski & Wakeboard championship rounds and had the crowds mesmerised by his skills on the wakeboard excuting numerous spectacular flips and near impossible tricks and stunts.
This time around he will also spend some time coaching the young Malaysian future wakeboard stars on Friday before the event.
The Honorary Secretary of the Malaysian Water Ski Federation said, "We are indeed grateful for Total Entertainment to give Bomb the release to come to us as he has a very busy schedule of competing all over the world as well as have commitments to coach at the Bangkok Wakeboarding centre. The kids here who have only started wakeboarding a year ago are all thrilled to hear of his arrival. They are all looking forward to see him and to learn from him again."
The 10 events' preliminary runs will be held on Saturday, 27th March while the finals are slotted for Sunday. Action starts at 8.30am and ends at around 5pm on both days.
Spectators will be treated to free banana boat and tube rides, during the lunch break and after the event events on both days. Admission to the event is free.
Round 1 of the 2010 Malaysian Waterski & Wakeboard Championship is sponsored by Putrajaya Corporation (PJC) as the host venue and Waterski & Wakeboard World Cup Sdn. Bhd. (WWWC). Pullman Hotel is the official hotel and Jebsen & Jessen in the official site shuttle for the event.
Total Entries: Hong Kong (HKG) - 7, Singapore (SGP) - 12, Indonesia (INA) 1 , France (FRA) - 2, Great Britain (GBR) - 3, Germany (GER) – 1, Switzerland (SUI) - 1, New Zealand (NZL) - 1, Malaysia (MAL) - 23. (51 entries from 9 countries)