---
Mon, 6th June 11
WATERSKI & WAKEBOARD ACTIVITIES BECOMES A REALITY IN KUCHING WATERFRONT AND WILL BENEFIT TOURISM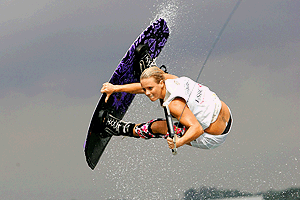 With just 3 months to the 2011 Sarawak Wakeboard World Cup to be held on the 15-18 September at the the Kuching Waterfront, waterski & wakeboard activities are set to become a reality in Kuching.
International Waterski & Wakeboard Federation (IWWF) and Waterski & Wakeboard World Cup Sdn. Bhd. (WWWC), the organisers of the event have delivered a state of the art brand new Mastercraft Pro Star 197 Tow Boat to Kuching last week.
The 370hp Mastercraft will start testing on the Kuching River on Wednesday 8 June by towing Malaysian national skiers and wakeboarders under the watchful eyes of IWWF coaches and officials.
A total of 12 local youths nominated by the Majlis Sukan Negeri Sarawak will join the national skiers to learn waterskiing and wakeboarding at the same time.
Tourists in Kuching are welcomed to join in the fun waterskiing or wakeboarding by the Kuching Waterfront if they are interested to join in. Participants shall be on a first come first served basis with limited number of tourists getting this chance to be amongst the first waterskiers to be ski in the Kuching River.
All they have to do is to turn up with swimming or surfing attire and sign in as life vests, boards and other equipment are supplied by WWWC.
Amongst the waterski & wakeboard stars participating in these tests and demo are Malaysia's triple record holder Phillipa Yoong and her 8 year old half sister Aaliyah Yoong Hanifah. Phillipa is Malaysia's national chief coach and a former SEA Games gold medallist while Aaliyah is currently ranked in Asia's top 6 in tricks in the open women division.
Also joining the duo is wakeboard and jump coach from China, Shu Zhenyi. Shu is the 2008 Asian jump champion.
After a week of testing and training of Sarawak's youths, commercial operations will start thus offering foreign tourists an additional activity which is very popular all over the world especially in America and Europe.
The waterski & wakeboard activity can be participated by any one who is reasonably fit from the age of 5 to 60 and bookings must be made by email or SMS. The contact details for bookings are email: hanifah@waterski.com.my or hp: +6012 272 1948.
A booking centre will also be set up at Margherita Hotel which is the Official Hotel of the 2011 Sarawak Wakeboard World Cup.