---
Thu, 8th Jul 10
WATERSKI & WAKEBOARD STARS HEAD FOR RD 3 IN PUTRAJAYA
Round 3 of the 2010 Malaysian Waterski & Wakeboard Championship has attracted a host of present and former waterski & wakeboard stars amongst the record entries heading for Putrajaya next weekend.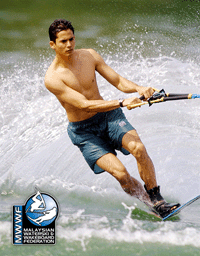 Alex Yoong (MAL)
Malaysia's former Formula 1 racer, Alex Yoong, has confirmed participating in all 3 events of slalom, shortboard and jump next weekend. This will be his first competition in waterski after a 13 years layoff. He is however expected to shine as he has been back in training in the last few weeks in Putrajaya.
In the wakeboard categories, top of the list is 17 year old Sasha Christian, Singapore's wakeboard darling and the 2009 IWWF Asian Wakeboard champion who shall be the only rose amongst the thorns in the Wakeboard Open Men & Women event.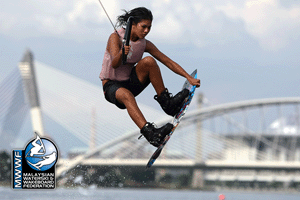 Sasha Christian (SIN)
Joining Sasha will be the favourite Frankie Ng also from Singapore who was round 1's runner-up. Suter Tan, a sliver medalist in Shortboard in the 1997 Jakarta SEA Games has also been entered and is participating in Putrajaya for the first time.
With the competition gaining international renown, seven competitors from Kuwait are also heading Putrajaya's way next weekend comprising 5 men and 2 ladies athletes – all taking part in wakeboard events. Topping the Kuwaiti entries is Bader Abdullah Al-Jihayem who had won the 2009 UAE Wakeboard Tour and placed 5th in Hong Kong's Wakeboard Open event last year. Jeanne Marie Al-Failakawi, a Houston born naturalised Kuwaiti will be taking part in the wakeboard women intermediate event with her 11 year old daughter May Talal in the novice event.
A host of young skiers from Indonesia and Singapore are also entered to give our Malaysian age group skiers a tough fight in the slalom and tricks events. The likes of Shamal Norman, Hadi Irfan, Ariff Alauddin, Nadiah Nasir, Hanis Azemi, Anakin Ali and Aaliyah Yoong may not have everything going their way with such strong challenges coming from these 2 countries.
The event organised by the Malaysian Waterski & Wakeboard Federation (MWWF) at Putrajaya's Water Sports Complex in Presint 6 is sponsored by Perbadanan Putrajaya, Ministry of Youth & Sports, and WWWC.
Entry to the event for spectators is free and the programme starts from 2.30pm to 6pm on Friday the 16th July and 8am till 5pm on the Saturday and Sunday of 17 & 18 July 2010.
SUMMARY OF 82 ENTRIES:
Singapore (SIN) - 17, Kuwait (KUW) - 7, Indonesia (INA) - 6, Great Britain (GBR) - 4, France (FRA) - 5, Japan (JPN) - 1, Canada (CAN) - 2, Malaysia (MAL) - 40.