---
Sun, 14th Nov 10
Seven Year Old Aaliyah Breaks National Waterski Open Shortboard Record Twice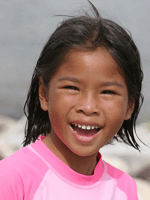 Aaliyah Yoong Hanifah, 7, stole the show from the adult open skiers today in the Shortboard Open Women event in the Malaysian Waterski & Wakeboard championship in Putrajaya today by breaking the national women shortboard record twice in one day.
She first broke Phillipa Yoong's national record of 2,100 points set in Jakarta's Asian championship last month by chalking up a score of 2,200 points in the women open shortboard event in the morning and then proceeded to raise the bar even further with a score of 2,790 points when she competed in the under 17 event with 6 other Indonesian and Malaysian competitors.
Phillipa Yoong who is half sister to Aaliyah as well as her coach was second with a score of 2,170 points with Indonesia's Dini Imaniar third with a score of 1,440 points in the open women event.
Phillipa was not surprised by Aaliyah's performance saying, "I expected that Aaliyah would do that sooner than later as her rise was meteoric. I did my best to defend my record and am happy I had improved again on my score in the last Asian championship held in Jakarta last month – but Aaliyah rose to the occasion. I am very proud of her."
"Normally even by world class standards getting to 1,500 points from a new shortboard skier will normally take at least a year and a half. Aaliyah is well on her way to challenge Asia's best before taking on the world." added Phillipa.
Aaliyah who is in standard 1 with SK Bandar Seri Putra near Bangi started tricking only in January this year. She trains 5 days a week at Putrajaya's waterski & wakeboard school located at the Maritime Centre in Presint 6.
The finals will be held tomorrow where spectators will enjoy a 15 event drawcard. The events to be run are waterski slalom, shortboard and jump from 7.30am till 5.00pm after which the organisers are giving free banana boat and tubing rides to children attending the event.