RULES, EVENT DOCS & RESOURCES
2010 Championship - Rd. 1, 2, 3 & 4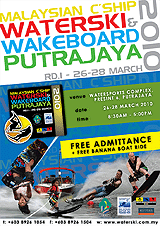 (enlarge 2010 MWWC Rd1 poster)
______________________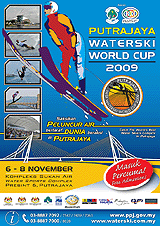 (enlarge World Cup 2009 poster)
______________________


---
Wed, 24th Feb 10
ROUND 1 POSTPONED TO 27-28 MARCH 2010
Due to sponsorís request, Round 1 of the 2010 Malaysian Waterski & Wakeboard Championship originally scheduled for the 13-14 March is now postponed to the 27-28 March 2010 with the venue remain unchanged at Putrajaya. Round 2, 3 and 4 dates remain the same.
Entries from S.E.Asian and the Asian region are invited. Please contact mwsf@waterski.com.my for more information if required.
Entry forms and regulations can be downloaded from the site at www.waterski.com.my .
Please submit your entries to avoid disappointment.



Join our facebook group here:



Copyright © Waterski & Wakeboard World Cup Sdn Bhd. All Rights Reserved.