---
Fri, 29th Oct 10
PUTRAJAYA WATERSKI & WAKEBOARD EXTRAVAGANZA ON 12-14 NOV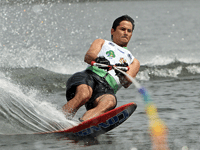 Putrajaya will host the final round (rd 4) of the 2010 Malaysian Waterski & Wakeboard Championship on the weekend of 12-14 November at their popular Water Sports Complex in Presint 6 next to the Putrajaya Maritime Centre and the 5-star Pullman Hotel.
The exciting weekend of waterski & wakeboard competitions and fun for family members of all ages is organised by the Malaysian Waterski & Wakeboard Federation and promoted by Waterski & Wakeboard World Cup Sdn. Bhd.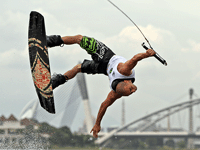 More than 8 countries including Malaysia have confirmed competitors for the grand finale event of the 2010 waterski & wakeboard season in Putrajaya. A total of more than 30 foreign top level as well as age group competitors will join 30 Malaysians to fight for the honours of medals in 16 event categories which will see spectacular actions in slalom, jump, shortboard (tricks) and wakeboard for men and women.
Topping the billing will be Asian champion men jumper from China, Shu "Sky" Zhenyi who has arrived from Beijing for a two week long training stint before Rd 4. Also coming is the 1997 SEA Games men slalom champion Fath Daud Wangka from Indonesia. Malaysia's 1997 Gold medallist in women jump, Phillipa Yoong and her motor racing renown older brother and ex-Formula 1 racer Alex Yoong are expected to lead Malaysia's challenge for honours.
Other famous names who are expected to confirm their entries this week are Thailand's wakeboarding sensation and Asian champion Padiwat "Bomb" Jaemjan as well as Singapore's Asian wakeboard champion Sasha Christian.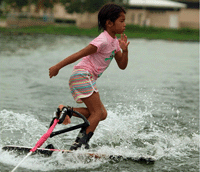 Besides the open events for men and women there will be age group events for under 14 and under 17 boys and girls where Malaysia's Shamal Norman (16), Hanis Azemi (12), Hadi Irfan Rahaizah (10) and Phillipa's half sister Aaliyah Yoong Hanifah (7) will face stiff challenges from Indonesia's 17 strong team for the event.
The 3-day water sports extravaganza will have plenty to do for families and tourists coming to Putrajaya as free tubing and banana boat rides will be organised for spectators as well as colouring contests for under 5 and under 10 children with plenty of prizes and lucky draws to be won for those who purchase event merchandise or a copy of the colourful Rd 4 souvenir fold out posters for a nominal price of RM1 only.
The events will commence from 8 am and end at 5pm for Friday and Saturday of the 12 and 13 of November and will commence at 8am and end at 4pm with a prize presentation ceremony at 4.30pm on Sunday after live performances by Malaysia's recording artistes.
For more information please contact tel: 03-8926 1504 or hp: 012-272 1948 or email: hanifah@waterski.com.my or visit the website at www.waterski.com.my .