---
Wed, 3rd Nov 10
PHILLIPA YOONG'S NEW RECORDS RATIFIED AS SIBLINGS RIVALRY CONTINUES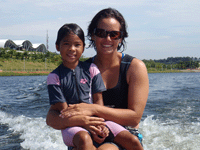 The Malaysian Waterski & Wakeboard Federation (MWWF) has yesterday officially ratified two new national waterski records for women slalom and women tricks set by 31 year old mother of two Phillipa Yoong.
The new women slalom record of 2 buoys @ 55kph @ 14.25 rope line recorded by Phillipa in Rd 3 of the Malaysian Championship held in Putrajaya on July 2010 beats the long standing previous record by one buoy @ 14.25m line. The previous record was held by Phillipa and had stood for 16 years.
Phillipa also set a new record for women tricks in the Asian Championship in Jakarta held 2 weeks ago with a score of 2100 points beating the 17 year old record of 1990 points which was also held by Phillipa.
"It is a remarkable achievement for an athlete to come back to better her personal best scores after more than 13 years of layoff from waterskiing," said Phillipa's father Hanifah Yoong who was a former board member of the International Waterski & Wakeboard Federation (IWWF) at the world level in the 90s.
"Pipa only came back to training one year ago following the birth of her second child Chloë Summer following the successfully held Putrajaya Waterski World Cup therefore she showed tenacious determination to succeed even at this stage with motherhood responsibilities on her shoulders." added Hanifah.
Phillipa commented that, "It is more than wanting to do well for myself in the personal sense as my prime objective when appointed the head coach of the MWWF was to bring up a new generation of Malaysian waterski champions from our crop of youngsters in training. I therefore had to ski a lot in order to give them a yardstick to emulate."
"Right on my heels now in women tricks, is my 7-year old half sister Aaliyah who is going great even at such a young age. She's still too small to compete against the adults in slalom and jump but she is pushing me to keep ahead of her in tricks while I am setting her higher targets to chase. The fight for women tricks gold in round 4 in 2 weeks time is going to be fierce, I tell you."
Round 4 of the Malaysian Waterski & Wakeboard Championships is scheduled for the 12-14 Nov 2010 and the entire squad of 12 Malaysian trainees will turn up in full force to measure their prowess against 45 other overseas waterskiers and wakeboarders from the region and Malaysia. The 12 trainees include Shamal Norman 15, Hanis Azemi 12 and Hadi Irfan Rahaizah 10 who are the other national team members selected for the Asian Beach Games in Muscat, Oman to be held this coming December.
For more information of the Round 4 event in Putrajaya spectators can enquire with MWWF at hp: 012 272 1948 or email: office@waterski.com.my or visit the website at www.waterski.com.my .