RULES, EVENT DOCS & RESOURCES
2010 Championship - Rd. 1, 2, 3 & 4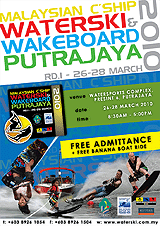 (enlarge 2010 MWWC Rd1 poster)
______________________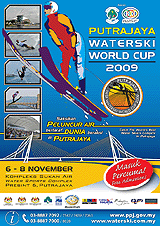 (enlarge World Cup 2009 poster)
______________________


---
Fri, 12th Feb 10
MWSF PUBLISHES 2010 MALAYSIAN WATERSKI & WAKEBOARD CHAMPIONSHIP REGULATIONS & ENTRY FORM
In an exciting development for 2010, the Malaysian Water Ski Federation (MWSF) has decided to increase the prize monies for all categories in the 2010 Malaysian Waterski & Wakeboard Championship in collaboration with the organisers Waterski & Wakeboard World Cup Sdn. Bhd. (WWWC).

Events included for this year's championship are Novice Slalom for age groups of under 10 and under 15 for both boys and girls, Intermediate & Open Slalom for men and women, Wakeboard for novice, intermediate and open men and women starting from round 1 to be held in Putrajaya's Water Sports Complex on the 27th - 28th March.

In round 2 at the same venue to be scheduled for 15th - 16th May MWSF will introduce additional events in shortboard for novice and open men and women in addition to the above events.

From round 3 onwards to be held on the 17th - 18th July also to be held in Putrajaya MWSF will include the jump events for novice and open men and women.

Round 4 will be held at a date to be confirmed in November which will be the closing finale of this year's championship with competitors from China, Korea, Japan and the Middle East also to be invited.

In addition to medals to be won for first to third, a total prize fund of RM30,000 per round has been budgeted for the competitors from Malaysia as well as from the regional countries like Indonesia, Singapore, Hong Kong, Chinese Taipei and Thailand.

Entries for round 1 is open forthwith and the regulations as well as the
entry forms can be downloaded at the website at www.waterski.com.my or at
the office of MWSF via email: mwsf@waterski.com.my or tel: +603-8926 1054,
+603-89251854, fax: +603-8926 1504.
Attachments:
| Regulations | Entry Form & Media Sheet |
---



Join our facebook group here:



Copyright © Waterski & Wakeboard World Cup Sdn Bhd. All Rights Reserved.