---
Fri, 19th Mar 10
MWSF KICKS OFF 2010 CHAMPIONSHIP WITH RD. 1 IN PUTRAJAYA ON 26-28 MARCH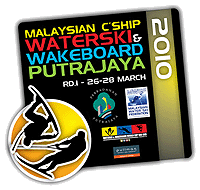 The Malaysian Water Ski Federation (MWSF) will kick off the four round 2010 Malaysian Waterski & Wakeboard Championship with round 1 to be held at the Putrajaya Water Sports Complex next weekend from the 26th to the 28th March.
The events will comprise slalom and wakeboard for open and intermediate skiers as well as age group novice slalom events for boys and girls under 10 and under 15. A total of 14 events are slated to be run over two days of competition on the Saturday and Sunday. Friday is a free practice day for all entered competitors.
The MWSF have more than 20 young Malaysians in their training squad since early last year and will be eager to see how they measure up in a tournament involving foreign competition from Singapore, Hong Kong and elsewhere in the region.
Up to today, 10 days before entries closing date there are 11 competitors from Singapore, 6 from Hong Kong, 1 from Japan and 6 from Europeans who are resident in Malaysia and Singapore. Indonesia is also expected to send a contingent.
The very young Malaysian junior squad members who shall be taking part are Shamal Norman, Syahir Nasir and Ariff Alauddin in the Novice Slalom for boys under 15 as well as Nadiah Nasir, Hanis Azemi and Syakirah Nasir in the Novice Slalom for girls under 15. In the under 10 category for Novice Slalom, Aaliyah Yoong and Alisandra Ali will be pitched against Anakin Ali and Hadi Irfan Rahaizah.
Phillipa Yoong, MWSF's head coach said, "The young trainees who are currently under 15 and under 10 need as much competition exposure as possible as they are the base of our 10 year plan to train and nurture world class international waterski competitors by 2020."
MWSF expects the final number of entries to total 60 competitors with 30 from Malaysia and 30 foreign entries. A total prize money purse of RM15,000 will be up for grabs in round 1.
The Malaysian Championship round 1 is sponsored by Putrajaya Corporation and WWWC. Pullman Hotel is the official hotel for the event. Admission to the event is free and MWSF will also organise free tubing for spectators during the lunch breaks.
For more information on the event and entry details please contact MWSF at mwsf@waterski.com.my or call 03-8926 1054. Entry forms can also be downloaded at www.waterski.com.my .
Attached: Provisional Entry List & Event Schedule