---
Tue, 19th May 09
MALAYSIA TAKE THE LION'S SHARE IN PUTRAJAYA WATERSKI & WAKEBOARD JUNIOR CUP TITLES
Malaysia came away winners in six out of eight age group titles in the first national waterski & wakeboard championship organized by Malaysian Water Ski Federation (MWSF) at Putrajaya last weekend.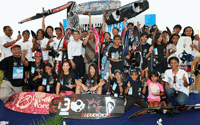 The "Putrajaya Waterski & Wakeboard Junior Cup", the first round of the 4-round 2009 championship, ran with a full schedule of eight age group waterski & wakeboard events and three events for intermediate and open skiers and riders.
The winner in the 10 and under mini-slalom event for boys is Syahir Nasir, 10 who led a Malaysian clean sweep of podium places with 8 year old Hadi Irfan in second and Anakin Ali, 7, in third.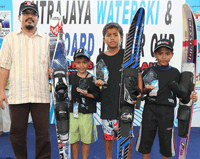 The tiniest and youngest competitor, Aaliyah Yoong Hanifah, 5, took the 10 and under girls title for Malaysia beating compatriot Hanis Azemi, 10, to second spot and 8 year old Indonesian Emilia Guliva Hamp in third.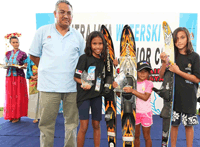 All these 10 year and under Malaysian podium finishers are touted as Malaysia's best hopes for international honours within the next 5 to 8 years by Larry Gisler, the IWSF Coaching Director who was brought in by MWSF to oversee junior development with MWSF's head coach, Phillipa Yoong.
Gisler said, "These five young Malaysian podium finishers have all either cleared the main slalom course or about to clear the main slalom course. Syahir and Aaliyah are both able to make a second clean pass in the main slalom course at increased boat speed. These five will certainly form the back bone of Malaysia's future international stars if they continue to train with the same dedication I have seen in the past 10 days."
In the boys 18 and under slalom event, Haziq Zohari from Putrajaya won impressively from fellow Putrajaya resident, Izarin Sumar Lee while another Malaysian Shamal Norman finished third making another Malaysian clean sweep.
Other Malaysian winners are Danny Choo, 27, in the Slalom novice men above 18 events, Khoo Cai Mei, 22, in the Wakeboard Novice Women event and 14 year old Shamal Norman took the top podium in the Wakeboard Novice Men event.
The girls 15 and under slalom event was won by Singaporean Kalya Kee with Malaysians Nadiah Nasir and Syakirah Nasir second and third respectively.
In the slalom for novice women event, Ummu Thoyibhatus Sholikah from Indonesia emerged the winner from Norzeela Sulaiman and Nur Izzaty Zainal of Malaysia.
The draw card events of the weekend are the non-age group Intermediate and Open categories for Slalom and Wakeboard which drew a strong presence of regional stars. Ade Hermana of Indonesia took top honours in the Wakeboard Intermediate event while the 1997 S.E.A Games slalom gold medalist Fath Daud Wangka of Indonesia took the gold in the open men slalom event. Hong Kong's Julien Breistroff won the open wakeboard event.
The Putrajaya Waterski and Wakeboard Junior Cup recorded an attendance figure of 2,000 spectators for the weekend with entertainment breaks in between events. Asia's top wakeboarding star Padiwat "Bomb" Jaemjan wowed the crowd with his wakeboarding stunts through numerous appearances on both days of the event.
Fifty five competitors with 25 from Indonesia, Singapore, Hong Kong, Chinese Taipei, USA, Japan New Zealand and Cyprus took part in the 2-day event. The event is sponsored and supported by the Putrajaya Tourism Action Council (Tourism Ministry), Putrajaya Corporation and Waterski & Wakeboard World Cup.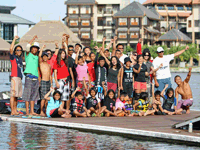 TOP 3 RESULTS (Malaysians in bold):
Event 1 (Finals): Mini Slalom - Girls (15 and under)

Pos

Name

Total Score

1

Kalya Kee (SGP) 13+

23

2

Nadiah Nasir (MAL) 13+

14

3

Syakirah Nasir (MAL) 12+

14

<![if !supportMisalignedColumns]>
<![endif]>
Event 2 (Finals): Mini Slalom - Boys (18 and under)

Pos

Name

Total Score

1

Haziq Zohari (MAL) 18+

33.5

2

Izarin Sumar Lee (MAL) 16+

22.5

3

Shamal Norman (MAL) 14+

21

<![if !supportMisalignedColumns]>
<![endif]>
Event 3 (Finals): Mini Slalom - Women (above 18)

Pos

Name

Total Score

1

Ummu Thoyibhatus Sholikah (INA)

20.5

2

Norzeela Sulaiman (MAL)

17

3

Nur Izzaty Zainal (MAL)

17
Event 4 (Finals): Mini Slalom - Men (above 18)

Pos

Name

Total Score

1

Danny Choo (MAL)

22.5

2

Majid Dorani (MAL)

15

3

Armand Ali (MAL)

14
Event 5 (Finals): Wakeboard - Women (Novice)

Pos

Name

Total Score

1

Khoo Cai Mei (MAL)

18.46

2

Siti Nurkarimah Andini (INA)

16.69

3

Ummu Toyibhatus (INA)

15.68
Event 6 (Finals): Wakeboard - Men (Novice)

Pos

Name

Total Score

1

Shamal Norman (MAL)

25.01

2

Rody Sofian Buang (MAL)

23.93

3

Shafiq Iqmal (MAL)

23.12
Event 7 (Finals): Wakeboard - Men & Women (Intermediate)

Pos

Name

Total Score

1

Ade Hermana (INA)

34.46

2

David Leaver (SGP)

28.43

3

Ms. Kalya Kee (SGP)

26.57
Event 8 (Finals): Mini Slalom - Girls (10 and under)

Pos

Name

Total Score

1

Aaliyah Yoong (MAL) 5+

17.5

2

Hanis Azemi (MAL) 10+

15

3

Emilia Guliva Hampp (INA) 8+

5
Event 9 (Finals): Mini Slalom - Boys (10 and under)

Pos

Name

Total Score

1

Syahir Nasir (MAL) 10+

29

2

Hadi Irfan (MAL) 9+

20.5

3

Anakin Ali (MAL) 7+

16
Event 10: Slalom - Men & Women (Open)

Pos

Name

Total Score

1

Fath Daud Wangka (INA)

39

2

Yusuke Nozawa (JPN)

32.5

3

Cheng Wai Nam (HK)

14.5
Event 11: Wakeboard - Men & Women (Open)

Pos

Name

Total Score

1

Julien BREISTROFF (HK)

62.81

2

CHENG Wai Nam (HK)

57.01

3

LIN Hao-Ting (TPE)

43.34
(For full results, please see attached excel file here)
---
More MWWC Rd.1 photos CLICK HERE