RULES, EVENT DOCS & RESOURCES
2010 Championship - Rd. 1, 2, 3 & 4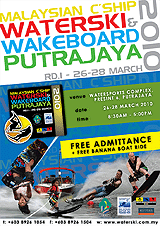 (enlarge 2010 MWWC Rd1 poster)
______________________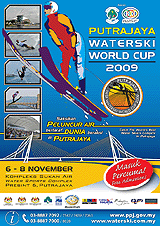 (enlarge World Cup 2009 poster)
______________________
---
: : Click here for Supplementary Rules, Information, Entry Form & Hotel Booking Form : :
---
Tue, 24th Mar 09:
MALAYSIAN WATERSKI & WAKEBOARD CHAMPIONSHIP 2009

Following the hugely successful inaugural IWSF Putrajaya World Cup held last November in Putrajaya's spankingly modern Water Sports Complex in Presint 6 Putrajaya, the Malaysian Water Ski Federation (MWSF) has launched the 2009 Malaysian Water Ski & Wakeboard Championship to be held over four rounds at Putrajaya and the Mines resort in Kuala Lumpur.

Round 1 scheduled for 16-17 May 2009 named "Putrajaya Junior Waterski & Wakeboard Cup" is sponsored by the Putrajaya Tourism Action Council and organised jointly by MWSF and MWSF's affiliate, Waterski & Wakeboard World Cup Sdn. Bhd.

Round 2 is slotted to be held on 11-12 July 2009 at the Mines Resort in Kuala Lumpur where the MWSF's affiliate Performance Watersports Sdn. Bhd. is the operator there while round 3 will return to Putrajaya on the 17-18 October 2009. Round 4 has been calendared for the 5-6 December 2009 with the venue to be confirmed.

The four round championship is opened to all Malaysians and residents of Malaysia as well as akiers and riders from the regional IWSF national federations and associations. Categories of events in each round are Slalom, Mini-Course Slalom and Wakeboard for women, men and various age groups of girls and boys.

"The MWSF has in the last 5 months trained a crop of some 50 brand new waterskiers and wakeboarders who are all keenly looking forward to participate in the championship rounds. The majority of these new skiers and riders are in their teens and pre-teens which certainly reflects the success of the MWSF development programme in such a short period of time," said Phillipa Yoong who is the Hon. Secretary of the MWSF.

For more information, rules and entry forms, participants and those interested to travel to Malaysia to take part or to spectate in these events, please contact the MWSF at mwsf@waterski.com.my or call +603 8926 1054. These information are also available in www.waterski.com.my .

END
---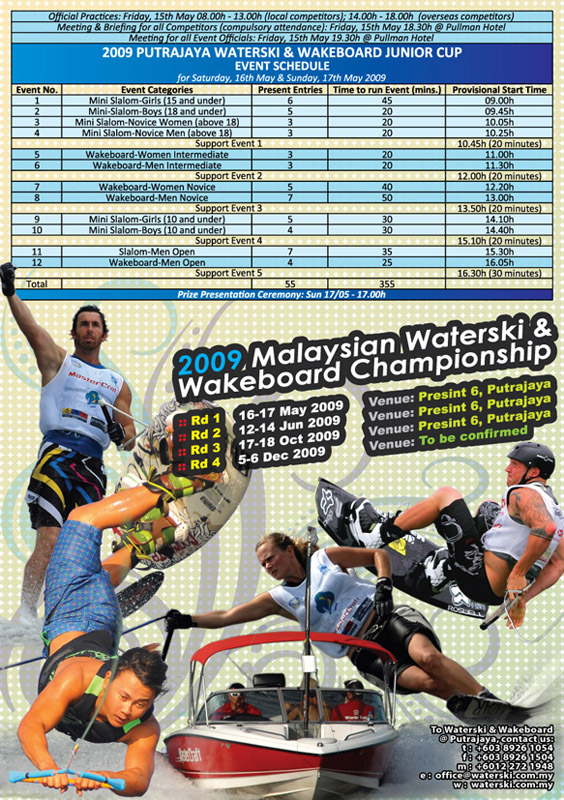 Join our facebook group here:



Copyright © Waterski & Wakeboard World Cup Sdn Bhd. All Rights Reserved.