RULES, EVENT DOCS & RESOURCES
2010 Championship - Rd. 1, 2, 3 & 4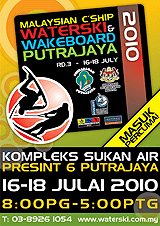 (enlarge 2010 MWWC Rd3 poster)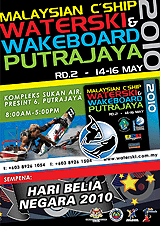 (enlarge 2010 MWWC Rd2 poster)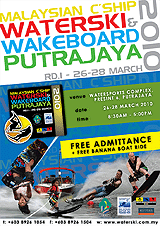 (enlarge 2010 MWWC Rd1 poster)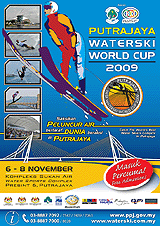 (enlarge World Cup 2009 poster)
---
Mon, 19th Jul 10
MALAYSIAN WATERSKI & WAKEBOARD CHAMPIONSHIP RD3 - HEADLINES & RESULTS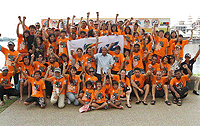 Event Headlines:
· Sasha Christian of Singapore, Asian Women Wakeboard Champion, takes top podium spot in Wakeboard Open event against tough competition.

· Kuwait participated for the first time in Malaysia, with a 7-strong contingent, taking home a win by Falah Adel Al-Falah in wakeboard men novice.

· Former Formula 1 racer, Alex Yoong back in waterski competition and wins Jump event with 31m with hardly any pre-event practices after a 13 year lay-off from waterskiing.

· Former British Junior Champion, Mark Simmons, wins Slalom Open event.

· Malaysia's head coach, Phillipa Yoong wins Shortboard Open, second in Jump and Slalom.

· Anakin Ali, 8, breaks his own Malaysian boys' Shortborad record with a score of 1040 points in his second ever tournament in shortboard.

· Shamal Norman of Malaysia scores an impressive 21.25m winning jump in novice jump event having just started jumping in March this year.

· Youngest competitor in rd 3 six year old Aaliyah Yoong Hanifah rewrite Malaysian Girls' Shortboard record with 960 points.

· International Waterski & Wakeboard Asian Australasian Oceania Confederation President, Paul Fong, announces that the IWWF AAO will consider MWWF's bid for the 2011 IWWF Asian Waterski & Wakeboard Championship.

· Putrajaya City's President, Tan Sri Samsudin Osman, graced the presentation ceremony and gave away medals to winners.

· China's national shortboard coach and world's top 10 ranked shortboard skier with 6,800 points to her credit, E Min, evaluated Malaysia's junior shortboard skiers at rd 3 and offered support to coach Malaysia's skiers.
Statistics of entries::
Singapore (SIN) - 17, Kuwait (KUW) - 7, Indonesia (INA) - 6, Great Britain (GBR) - 4, France (FRA) - 5, Japan (JPN) - 1, Canada (CAN) - 2, Malaysia (MAL) - 40.
Gold Medal winners:
Aaliyah Yoong Hanifah 6+ (MAL) in shortboard girls under 15, Yerikho Tobias Sinaga 13+ (INA) in shortboard boys under 15, Phillipa Yoong (MAL) in shortboard men & women open, Shamal Norman (MAL) in jump men & women novice, Alex Yoong (MAL) in jump men & woen open, Kalya Kee (SIN) in wakeboard men & women intermediate, Nadya Atalia Sinaga (INA) in wakeboard women novice, Falah Adel Al-Falah (KUW) in wakeboard men novice, Styfany Foo (SIN) in wakeboard women intermediate, Jeremy Chng Chee Kiang (SIN) in wakeboard men intermediate, Nadiah Nasir 14+ (MAL) in slalom girls under 15, Shamal Norman (MAL) in slalom boys under 15, Hadi Irfan Rahaizah (MAL) in slalom boys & girls under 10, Mark Simmons (GBR) in slalom men & women open, Sasha Christian (SIN) in wakeboard men & women open.
Gold medals table:
Malaysia – 7, Singapore – 4, Indonesia – 2, Kuwait – 1, Great Britain – 1.
Full results:
Click HERE