---
Mon, 29th Mar 10
HONG KONG SWEPT MAIN EVENTS WHILE MALAYSIA WIN BIG IN AGE GROUP EVENTS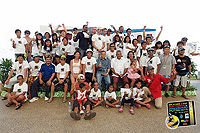 Hong Kong swept both golds in the open events for slalom and wakeboard in round 1 of the 2010 Malaysian Waterski & Wakeboard championships held in Putrajaya last weekend.
Cheng Wai Nam won the open slalom for men & women a keen tussle with Malaysia's number one skier resulting in a tied result of 7.5 buoys (7.5 buoys) which had to be broken with a run off which Cheng won. Cheng then got his double when he swept the field in the open wakeboard event for Men & Women with a score of 62.56 points.
Third in the open slalom event was Chau Tung Sing of Hong Kong while Singapore's Frankie Ng and Singapore's darling 17 year-old Sasha Christian took the silver and bronze respectively in the open wakeboard event.
The host nation, Malaysia, took 3 golds in round 1 of the 2010 Malaysia Waterski & Wakeboard championships held in Putrajaya last weekend. The wins came from the events for junior skiers for under 15 and under 10 categories demonstrating Malaysia's emerging strength for the future.
Six year old Aaliyah Yoong Hanifah won the under 10 slalom event for boys and girls with 14 buoys when pre-event favourite Hadi Irfan Rahaizah managed only 13. Alisandra Ali, 7, scored her first career podium to finish 3rd with 8 buoys after older brother Anakin Ali missed the entry gates and scored zero.
Shamal Norman won the slalom boys under 15 event with 15.25 buoys beating Ariff Alaudin and Syahir Nasir who finished second and third respectively. Nadiah Nasir won the slalom girls under 15 with a score of 21 buoys while 11 year old Hanis Azemi surprised with silver beating older competitors with Syakirah Nasir completing the last podium spot.
Singapore took 2 gold medals with wins coming from Patricia Foo in the wakeboard novice women event and Styfany Foo in the wakeboard intermediate women event. The remaining golds won are New Zealand's Tee Lim taking the wakeboard novice men event, Sebastien Delnatte of France winning the slalom intermediate men event and Manual Reiner of Germany winning the wakeboard intermediate men event.
Round 2 will be run at the same venue in Putrajaya on the 14th to 16th of May.
Total Entries: Hong Kong (HKG) - 7, Singapore (SGP) - 12, Indonesia (INA) 1 , France (FRA) - 2, Great Britain (GBR) - 3, Germany (GER) – 1, Switzerland (SUI) - 1, New Zealand (NZL) - 1, Malaysia (MAL) - 23. (51 entries from 9 countries)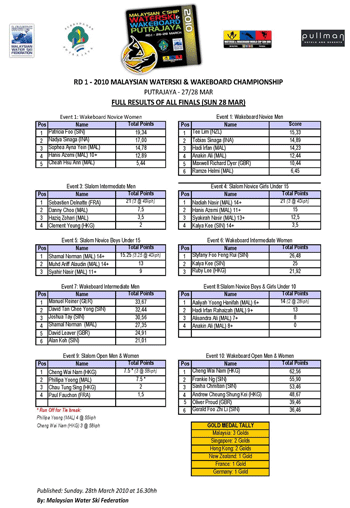 ---
More Rd.1 photos HERE
---