---
Wed, 19th May 10
ANAKIN ALI STARS WITH NEW SHORTBOARD RECORD FOR UNDER 10 WATERSKIERS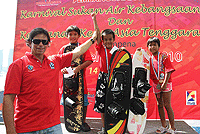 The star of the weekend was 8 year old Anakin Ali who scored a record 900 points in the shortboard event for boys and girls under 10. He was followed home by Hadi Irfan Rahaizah, 9, with 660 points and six year old Aaliyah Yoong Hanifah at 520 points.
In the shortboard boys and girls under 15 category, 13 year old Syakirah Nasir won gold with 530 points from Hanis Azemi with 480 points and Shamal Norman Abdul Rahman at 320 points.
IWWF's top coach, Larry Gisler from Argentina who is in Malaysia to do a 10 day coaching stint with the Malaysian trainees was very impressed by all the competitors in the shortboard events. He said, "Malaysia will be a force to be reckoned with in Asia very soon. I would say that this might happen within the next 3 to 5 years. The performances of the younger competitors over the weekend show that some of them can reach world standards in the next 8 to 10 years provided they get good resources to keep them in aggressive training under good coaches."
The day's only double winner was Shamal Norman Abd Rahman age 14 when he took home gold medals in the wakeboard novice men event from Hadi Irfan and Anakin. Shamal also won the slalom event for boys and girls under 15 when he beat Nadiah Nasir into second place with Syahir Nasir third.
Hanis Azemi took home gold in the wakeboard novice women event from Alisandra Ali and Sophea Ayna Yein while Hadi Irfan won gold in the slalom boys and girls under 10 event taking revenge by beating Aaliyah to second this time around with Anakin taking the final podium spot in third. Haziq Zohari finally took the top podium in the slalom men & women intermediate event after missing the win when he was the favourite in round 1. Danny finished second while Frenchman Sebastien Delnatte finished third.
The open division men & women slalom event saw Briton, Mark Simmons wrest the crown from Malaysia's 1997 Jakarta SEA Games gold medallist Phillipa Yoong . Phillipa Yoong however took the gold in the shortboard men & women open event which was run despite having only one competitor in the event as the organisers wanted to give Phillipa a competition run under tournament conditions. Phillipa scored a creditable 1,500 points after having not competed in this category since 12 years ago.
Round 3 will be held in Putrajaya on the 16th – 18th July 2010.