RULES, EVENT DOCS & RESOURCES
2010 Championship - Rd. 1, 2, 3 & 4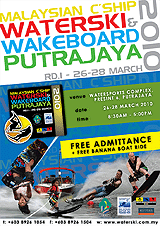 (enlarge 2010 MWWC Rd1 poster)
______________________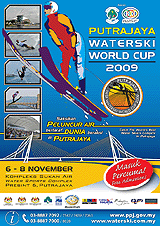 (enlarge World Cup 2009 poster)
______________________


---
Wed, 17th Feb 09:
AALIYAH YOONG, AGE 5, BECOMES YOUNGEST MONO SKI TRAINEE AT PUTRAJAYA
Aaliyah Yoong Hanifah, the 5 year old daughter of Hanifah Yoong and Nozie Sulaiman followed their parents water skiing a few months ago starting with kneeboarding. She became the youngest MWSF trainee to successfully drop her ski to ski off in single ski on the 8th of February 2009.

Her determination to progress despite her very slight frame and unsuitable skis for her height and weight is to be admired and she proves that 5 is not too young to waterski in Malaysia.

The operator, WWWC, modified a junior double trainer with a back binding moved up nearer to the front binding. After a few successful tries on the rope attached to the boom, she soon ventured to drop her ski behind the boat. She did it on her first try and now regularly drops her ski and ski off successfully since the 8th of Feb 2009.

The MWSF under head coach, Phillipa Yoong, now has 24 trainees training on single ski on the slalom course. Imagine that back in November 2008 before the Putrajaya Waterski World Cup there was hardly any slalom skiers in Malaysia. These 24 trainees' age ranged from 5 to 33 with 85% of them under 18.

The first of the 4-round 2009 National Waterski & Wakeboard Championship will kick off in Putrajaya on the 15th-16th May 2009. Rd. 2 will be held on the 11th-12th Jul 2009 at the Mones Resort, with Rd. 3 scheduled in Sep 2009 also to be in the Mines Resort with dates to be confirmed. The final round (rd 4) will be held in Putrajaya on the 17th-18th Oct.

To all wakeboard riders and waterskiers out there, please contact MWSF at 03-8926 1054 or mwsf@waterski.com.my for more info on entries to the championship events.

"Waterski & Wakeboard is for all in the family from 4 to 80!"





Join our facebook group here:



Copyright © Waterski & Wakeboard World Cup Sdn Bhd. All Rights Reserved.