---
21st May 11
MWWF SENDS TEAM TO WORLD WATERSKI CHAMPIONSHIP IN RUSSIA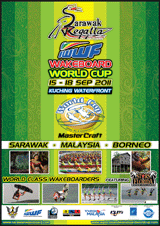 The 2011 Sarawak Wakeboard World Cup to be held on the 15-18 September at the the Kuching Waterfront is designed to create a legacy for the sport for the first time in the State.
International Waterski & Wakeboard Federation (IWWF) and Waterski & Wakeboard World Cup Sdn. Bhd. (WWWC), the organisers will ensure that this legacy of the sport will be achieved with the setting up of a new specialised Academy.
"Legacy building is the more difficult part of our obligations," said Kuno Ritschard, President of IWWF.
"In order to do this successfully we are starting the organisation of the World Cup earlier than usual by despatching our first state-of-the-art Mastercraft boat and coaches this month to Kuching."
"This will kick-off the Sarawak Waterski & Wakeboard Academy project by training the young people of Sarawak in how to wakeboard using the actual World Cup site on the river at the Kuching Waterfront."
The academy is expected to be launched in early June 2011 after the Gawai festival with the commencement of the training of Sarawak youths selected by the Ministry of Social Development & Urbanisation Sarawak in cooperation with the Ministry of Tourism & Heritage.
The Sarawak Wakeboard World Cup will also help Sarawak State Government to build a strong foundation for tourism and a new activity for the people of Sarawak to enjoy. "Tour agencies will also be invited to the launch of the Academy as this sport is a most sought after tourism product in the western world and we also like to see tourism in Sarawak benefiting from our sport." added Ritschard.
The Sarawak Wakeboard World Cup is also certain to attract international media exposure to enhance the image of Sarawak and the Kuching Waterfront.
International TV and print media coverage has been organised to broadcast the efforts of the 30 world-class wakeboarders in exciting competitions over the 3 days of the event in their battles for world honours and the US$100,000 prize fund.
The 2011 Sarawak Wakeboard World Cup is held in conjunction with the 2011 Sarawak Regatta for the first time this year with the Regatta being run from Thursday 15 to Saturday 17 of September and the Wakeboard World Cup from Friday 16 to Sunday 18 September. The total number of spectators expected over the 4 days of the water festival is expected to exceed 100,000.
Sponsorship partnerships are open to Malaysian and international corporations for the World Cup and more info can be obtained from Hanifah Yoong at email: hanifah@waterski.com.my or hp: +6012 272 1948 or from Mary Wan Mering at +6082 319313.