---
Wed, 24th Mar 10
2010 WATERSKI & WAKEBOARD CHAMPIONSHIP IN PUTRAJAYA RECEIVED 51 ENTRIES FOR RD 1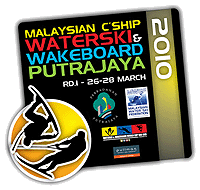 Round 1 of the 2009 Malaysian Waterski & Wakeboard National Championship promoted by the Malaysian Water Ski Federation (MWSF) and scheduled for the 26-28 March at the Water Sports Complex in Presint 6 in Putrajaya has received 50 entries from 8 countries.
Malaysian Water Ski Federation's Honorary Secretary Phillipa Yoong said that ever since the hugely successful 2009 MWSF Waterski & Wakeboard Championship, there had been an upsurge of interests from the local community as well as from the tourists in Malaysia.
She remarked that, "The waterski & wakeboard facilities in Putrajaya has attracted the local communities to participate in learning waterskiing & wakeboarding which warranted the site to stay open 6 days a week. The ski site has also attracted visitors into Malaysia specifically only to waterski or wakeboard in Putrajaya and making side tours as their secondary diversion while in Malaysia."
"We now have a big group of young skiers who are mostly in their teens and pre-teens participating in round 1 after one year of training and competitions. Some of them will be ready for overseas competitions later this year in Jakarta and in Muscat where the IWWF Asian Championship and the OCA Asian Beach Games will be held respectively in October and December. We feel that this first of four rounds in the Malaysian championships will help us gauge the Malaysians progress in order to select the team later," Phillipa added.
The event has so far received 51 entries for the event, of which 28 are from overseas and 23 from Malaysia.
The events for are slalom for age groups boys and girls under 10 and under 15, the intermediate and open slalom categories and the wakeboard events for novice, intermediate and open riders. The event starts at 8.30am and finishes at 4.30pm on both Saturday 27th March and Sunday 28th March. Prize presentation will be 4.45pm on Sunday.
Spectators will be treated to free banana boat and tube rides, during the lunch break and after the event events on both days. Admission to the event is free.
Round 1 of the 2010 Malaysian Waterski & Wakeboard Championship is sponsored by Putrajaya Corporation (PJC) as the host venue and Waterski & Wakeboard World Cup Sdn. Bhd. (WWWC). Pullman Hotel is the official hotel and Jebsen & Jessen in the official site shuttle for the event.
Total Entries: Hong Kong (HKG) - 7, Singapore (SGP) - 12, Indonesia (INA) 1 , France (FRA) - 2, Great Britain (GBR) - 3, Germany (GER) – 1, Switzerland (SUI) - 1, New Zealand (NZL) - 1, Malaysia (MAL) - 23. (51 entries from 9 countries)